September 14, 2014 | Leave a Comment
We're alive! Sorry for the extremely long hiatus, especially after I mentioned a stack of recipes. I'm happy to report that we are still vegan and we've just been a bit busy the last two years raising our new twin daughters who will be two in November. Yes, they are vegan too. We'll try to update our about page soon.
Now on to the recipe! We've been experimenting a lot with foods that we think our girls will eat – some recipes work, while others don't, but this one was a winner. It's also really easy to make with just 6 ingredients! You can also leave out the tofu making it just 5 ingredients! It was inspired (or technically borrowed and modified and veganized from the 101 Cookbooks recipe called "Double Broccoli Quinoa"). The girls like quinoa, but it's hard for them to eat since it falls all over the place, so we've been eating a lot of whole wheat pasta instead (pictured here with whole wheat orzo, but we've been using whole wheat medium shells lately as they are easy finger food for the girls).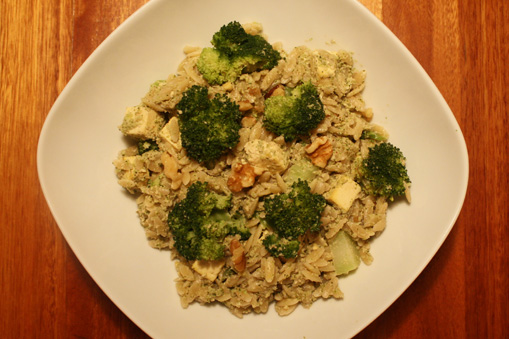 Here's the recipe:
3 large heads of broccoli
1 cup of walnuts
1 lemon
1 tbsp. olive oil (for pesto)
1 tsp. olive oil (for frying tofu)
1 block of extra firm tofu
1 lb. of whole wheat pasta (or the grain of your choice so it can be made gluten free)
Dice up your broccoli to bite sized pieces, steam 1 to 1 and a half cups so it is barely cooked, set the rest aside to steam more fully. Grind your walnuts in the food processor alone, then add the barely cooked broccoli, the juice of one lemon and one tablespoon of olive oil. Grind it all together to make your pesto. Who knew you could make pesto with broccoli? I didn't!
Then steam the rest of your broccoli to your liking, cook the pasta or grain of your choice (rice, quinoa or pasta would all work well), and cube the tofu and fry it up lightly. Combine the pasta and tofu in a large bowl and mix in the pesto. Once blended mix in the rest of the broccoli (this makes for a very large batch – the broccoli barely fits in – we usually eat the first serving by just adding the broccoli to our bowls, then mix in what's left in the big bowl after eating. We love leftovers. You could cut this recipe in half and still feed two people easily. Enjoy! It's good to be back!
May 12, 2012 | Leave a Comment
Sorry it's been so long since we've posted. The good news is, we have a stack of photos and recipes lined up, so more recipes are on the way soon!
Sometime last year, our friend Rachel sent us the link to this recipe for homemade lara bars on Enlightened Cooking. We tried them out and modified the Very Cherry Bars to come up with our own favorite combination. We have made these plenty of times, and we can't believe how tasty they are. Forget cookies, and help yourself to this delicious whole food dessert!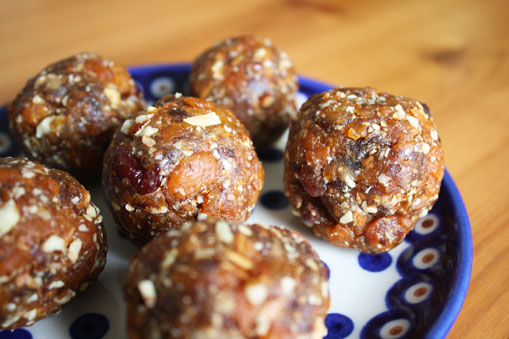 Here's the recipe:
1/2 cup chopped dates
1/4 cup dried cherries
1/4 cup dried apricots
1/3 cup pecans (roasted, unsalted)
1/3 cup almonds (roasted, unsalted)
1/4 teaspoon cinnamon
Place dates, cherries, and apricots in the food processor and pulse until well combined. Place in separate bowl. Place pecans, almonds and cinnamon in the food processor and pulse until nuts are coarsely chopped. Combine in the bowl with the dried fruit. Mix together well with your hands and form into balls (as shown) or press into a flat pan to make bars. This recipe will make around sixteen 1 1/2 inch diameter balls. Enjoy as a snack, a quick breakfast or a dessert!
December 31, 2011 | Leave a Comment
Since posting our chili recipe, we've enjoyed this corn bread a few times, and every batch has been good.  This recipe is a modified version of a recipe I've been making for years from the Moosewood Cookbook by Molly Katzen.  I've always loved it and was happy to find it was just as good with soy yogurt instead of cow yogurt (plus no cows had to suffer to produce this!).  This corn bread is sweet, moist and delicious all on it's own, but it's also really good with chili!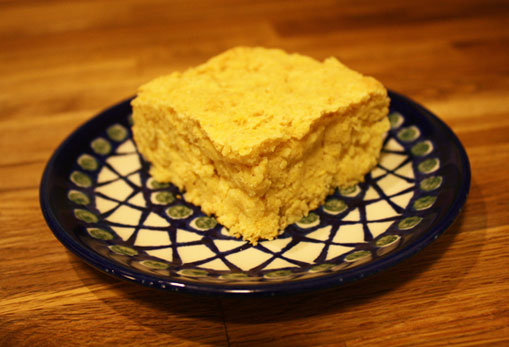 Here's the recipe:
1 cup cornmeal
1 cup flour
2 teaspoons baking powder
1/2 teaspoon baking soda
1/2 teaspoon salt
1 cup vanilla soy yogurt (we use Wildwood)
1 tablespoon egg substitute plus water (the equivalent of 1 egg – we use Bob's Redmill)
1 tablespoon agave nectar
1 tablespoon raw sugar
2 tablespoons melted earth balance margarine
Preheat oven to 350 degrees.  Grease an 8 inch square pan or baking dish with a little margarine.  Combine the dry ingredients in one bowl, and the wet ingredients (plus sugar) in another.  Stir the wet mixture into the dry, mixing enough to thoroughly combine.  Spread into the pan.  Bake for 20 minutes or until the center is firm to the touch.  When we have doubled the recipe, it comes out thicker and needs 5 to 10 more minutes to bake – use the toothpick test to make sure the center is cooked.  Enjoy warm or at room temperature!
Happy New Year from Vocal Vegan!
October 30, 2011 | 1 Comment
Sorry it's been awhile since we've posted a recipe! We made this a couple of years ago for a Halloween party, so we thought it would be timely to post it today, on Halloween "Eve". It's one of our favorite fall/winter recipes. This recipe comes from a little restaurant in Northern Michigan called Kejara's Bridge. They closed up shop in 2010, but before they did my sister snagged this recipe from them. It's easy to throw together with much of what is already in your pantry, which we like. A little cornbread on the side is good too, maybe we'll post a recipe for that next.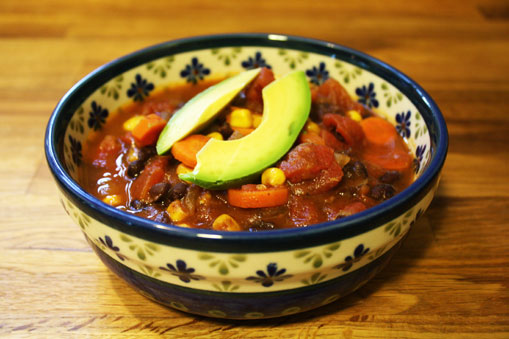 Here's the recipe:
1 medium onion, chopped
4 cloves garlic, pressed or minced
4 large carrots, chopped
1 tablespoon olive oil
42 oz. stewed diced tomatoes (1 large can, 1 small, or 3 small cans)
1 cup corn (fresh or frozen)
2 15oz. cans of black beans
1 1/2 cups water
3 tablespoons tamari (or soy sauce if you're not worried about gluten)
1 tablespoon chili powder
2 teaspoons cumin powder
1 teaspoon fresh ground pepper
Saute the onion, garlic and carrots together in the olive oil for 5 to 7 minutes until the onion is translucent.  Add the remaining ingredients and bring to a boil.  Reduce to a simmer for 45 minutes to an hour or until the desired consistency is reached.  Serve with vegan corn bread and/or sliced avocados.  Enjoy!
NOTE: This chili isn't super HOT.  If you like it hot, feel free to spice it up a bit more.  It's almost sweet, as the recipe is written, which is nice too.
September 7, 2011 | 4 Comments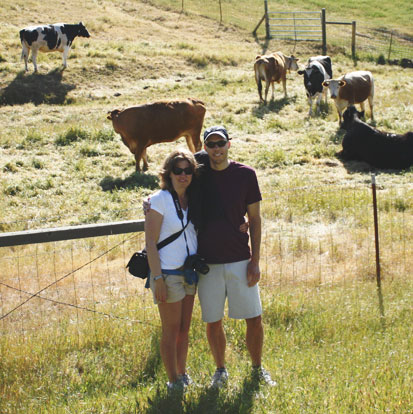 Early this May, Pete and I took a special trip with two of our good friends to the Farm Sanctuary in Orland, California. The timing was nice, almost one year exactly since we decided to adopt a 100% plant-based diet. We had read about Farm Sanctuary a lot in the last year, participated in their fundraising walk, and told many of our friends about this special place where farm animals get to live out their lives in peace. Now, we can finally share our own stories from this oasis for farm animals.
Let me begin by saying that those sweet animals melted my heart!  Before our visit, I had been reading a lot of books about how mistreated farm animals are in the factory farming system that now produces 99% of America's meat, eggs and dairy products. So when I finally arrived at the Farm Sanctuary, I was relieved to feel some of that misery fade away.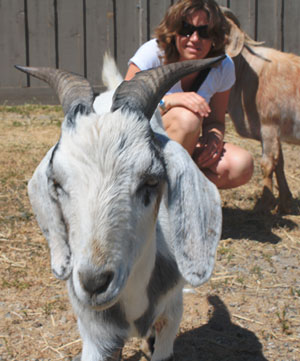 We decided to stay in the one cabin at the farm that they rent to visitors since our drive up to Orland from the Bay Area was about three and a half hours. In the morning, we were given a guided tour of the farm where we got to go right in and meet the animals face to face, hand to fur!
Before our tour began, we were able to walk around the farm and say hello to the animals from outside their areas (I hesitate to say pens, because they all have such wide open spaces to roam).  We were immediately greeted by a black cat named Blaze who proceeded to walk the grounds with us for the next hour!  What surprised me the most was how interested the animals were in us.  The turkeys gobbled so loudly we couldn't tell if they liked us or wanted us to go.  We learned later that they wanted us to come in and pet them – which, on our tour, we did!  Two of the pigs got up from their naps and wandered over to meet us at the fence so we could pet them and say hello.  Most of these animals have certainly forgiven the brutal lives they left behind before coming to the sanctuary.  Lives  that were made brutal, for the most part, by the hands of humans.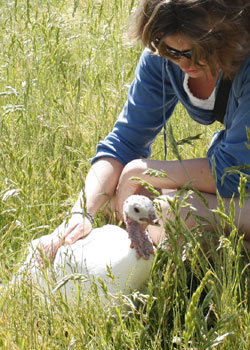 The tour included visits with chickens, turkeys, pigs, goats and cows.  Highlights included time with Noel the goat, pictured above.  It turns out he's from Silicon Valley too, but his story started in the trunk of a car last Christmas when his "owners" were pulled over by the police.  He was found hog-tied in the trunk and in bad shape.  He was lucky to be rescued by the police and eventually made his way to Farm Sanctuary, where he hangs out most of the time with Justin (the other young goat in the main goat herd).  Many of the animals at Farm Sanctuary have "best friends".  I love that.
We also met Olive the turkey.  She was with the "geriatric" birds…older chickens and turkeys who do better with a slower pace.  While the main group of turkeys were quite bold in their interest in us, coming right up and asking for pets and walking around quickly to visit each one of us repeatedly, Olive took a different approach.  She just quietly walked over to me and sat down right next to me.  We sat like that for awhile as she let me pet her soft feathers.  She reminded me of my cat.  I would never eat my cat for Thanksgiving, and I'm glad I'll never eat Olive either!  I was sad to see her beak, which had been clipped back (very likely with a hot knife and no anesthetic) to prevent her and other industrial birds from pecking at each other in close quarters.  This condition makes it really hard for her to eat.  I'm glad she now lives at Farm Sanctuary, where her caregivers make sure she gets enough nourishment.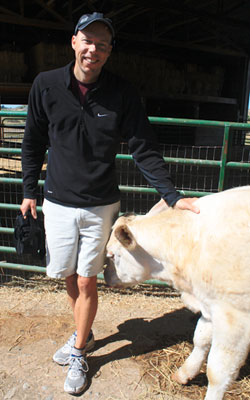 Before arriving at the farm, I was particularly interested in meeting Oliver (pictured below with me) and Elliot (pictured here with Pete, about to lick his leg!), two calves who we had read about before arriving.  We knew they had likely grown over the winter since their arrival at the farm, so we expected to see them with the main herd of cows.  When we didn't see them with the main herd, the guide reassured me that they had their own special area since they were still on the young side. 
When we got to their area we entered and looked into the barn.  They must have heard us come in, because a moment later, sweet little Elliot's head shyly poked out as if to say "who is coming to see me?"  He wasn't timid for long as he began licking us and nuzzling us with his big head.  Oliver soon followed and the two of them greeted us like old friends.  The sort of friends who are likely to scratch your head and pet you a lot!  I could have stayed and visited with these boys all day.  I can't wait to return to the farm again soon to see how they have grown.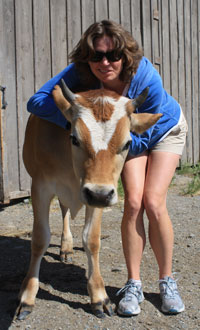 When you start to learn about industrial factory farming in America, and the sheer numbers of animals affected (10 billion a year!), it's hard not to question why it matters to rescue so few.  But when you go to the farm, and meet the animals, you realize why most visitors walk away changed.  Many pledge immediately to stop consuming animal products, and others are determined to cut back and work towards the eventual goal of adopting a plant-based diet.  Farm Sanctuary also does much more than rescue animals.  They work tirelessly to promote the wellfare of farmed animals through education and advocacy.  They reach out to businesses and legislators and they have made a huge difference in the 25 years since they were founded.  Pete and I plan to participate again this year in the annual Walk for Farm Animals to raise money for this great organization.  And we're hoping to attend the Celebration FOR the Turkeys in November.  Stay tuned for a blog post on that!  I hope to visit my good friend Olive and share some squash and vegan pumpkin pie with her!
Read the full rescue stories here for Oliver, Elliot and Noel!
August 29, 2011 | Leave a Comment
Tabouleh is a summer staple for us, and I meant to post this sooner!  I hope it's not too late for all of you to try this out as it's great for hot weather.  Our recipe is a combination of three others.  The Bob's Redmill bulgar wheat package has a recipe on the back that we started with, then we got the idea to add radishes from the recipe in The Kind Diet, and finally, we added chickpeas after having them in Pete's mom's tabouleh.  All together, we think this is perfect.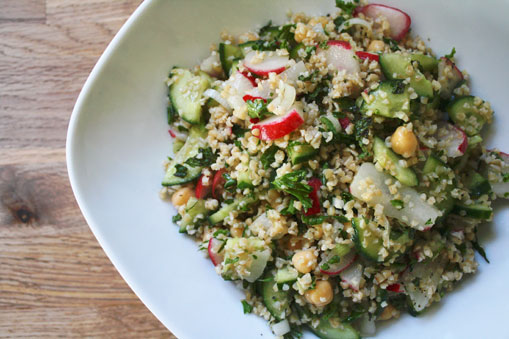 The recipe goes like this:
2 cups dry bulgar wheat / 2 cups water
1 bunch of parsley (roughly 2 loosely packed cups)
1 bunch of mint leaves (roughly 1 loosely packed cup)
1 bunch of radishes, chopped
1 bunch of green onions, minced
1 large cucumber, sliced and chopped
1 can of chickpeas (15oz.)
1 teaspoon cumin
3 tablespoons of lemon juice
3 tablespoons olive oil
salt and pepper to taste
To prepare the bulgar wheat, follow any directions on the package/bulk bin, or simply soak 2 cups of dry bulgar wheat with 2 cups of water in the refridgerator for 30 minutes to 1 hour.  (The soaking has always been enough for the kind we buy, but some bulgar is cut into bigger pieces and requires some cooking.)  Place in a large salad/serving bowl.
A food processor helps with the speed of this recipe tremendously.  First put the tops of the parsley branches (just the curly part plus a little bit of stem)  and the mint leaves into the food processor and pulse a few times until it's all chopped up pretty small.  Or, simply chop up the parsley and mint into tiny pieces with a chef's knife.  Combine this with the prepared bulgar wheat.  Then add the chopped radishes and cucumbers (we quarter the cucumber and halve the radishes and use the slicer on the food processor to cut these up) and mix together.  Next add the chickpeas (rinsed), cumin, lemon juice and olive oil and mix thoroughly.  Serve immediately or chill for an hour or so while the flavors mix.  Add salt and pepper to taste!  We love to serve this with a dollop of hummus on top too.  Look for a hummus recipe in a future post.
Note: This recipe is also great with tomatoes.  We often use tomatoes in place of the radishes, though I suppose you could include both!
August 14, 2011 | Leave a Comment
We've been making this salad for years, long before our shift to a plant-based diet.  I had it, or something similar, at a party once and asked the host how she made it.  The recipe below is what I remembered, but I can't be sure if it's what she told me.  It's really simple and a delicious way to eat beets and get tons of fiber in your meal!  Great for a hot summer night!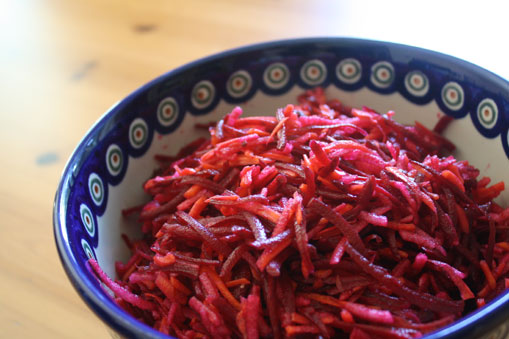 Making this salad without a food processor (with a shredder attachment) is not really advised.  It's certainly possible, but you'd have to do a lot of shredding and you know how messy beets can be!  That said, if you have a food processor with a shredder, this salad is a piece of cake (the sort of cake made of raw veggies and fruit).  Here's the recipe:
2 medium sized beets, peeled
2 tart apples, peeled (granny smith are great, or fuji work well too)
3 carrots, peeled
a drizzle or two of agave syrup (if you're not a strict vegan, honey works too)
the juice of one medium lemon
Simply peel your vegges and fruit, shred them in the processor, combine them into a large mixing bowl.  Mix in the lemon juice, then drizzle agave or honey and mix well.  Add more agave or honey to taste (you don't need much – this salad is really sweet).  Chill or serve immediately.   
June 5, 2011 | 6 Comments
Long before we were vegan, we regularly made "Tofu Burritos" from a great vegetarian cookbook called The Moosewood Restaurant Cooks at Home.  Then sometime last summer we found a tasty recipe on a fun vegan blog called Vegan Piggy called "El Cheapo Burritos".  We decided to try to combine these recipes into a new favorite.  We were really happy with the result, and we make this recipe all the time.  It's delicious in a wrap (our favorites are the Organic Whole Wheat Tortillas from Trader Joes), but it's also tasty in a bowl.  In both cases we garnish it with green olives, our favorite salsa and some avocado. 
NOTE: Some of our non-vegan friends might consider putting cheese on this.  But before you do that, please don't!  This is delicious on it's own, trust us!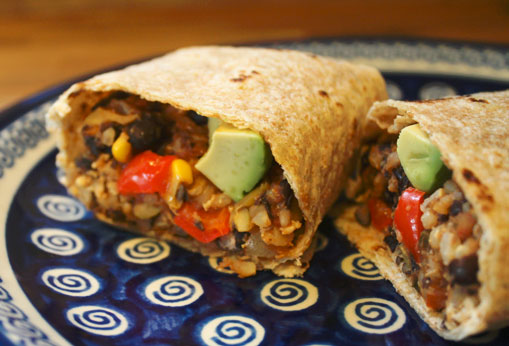 Here's the recipe:
1 cup brown rice (uncooked)
1 tablespoon olive oil
3 cloves garlic
1 medium onion, diced
2 bell peppers (any color!), chopped
1 lb extra firm tofu diced into cubes
2 teaspoons paprika
1 tablespoon cumin
1 teaspoon corriander
1 teaspoon oregano
1/4 teaspoon cayenne pepper
2 15 oz cans of black beans, rinsed
1 15 oz can of diced tomatoes, with juice
1/4 cup tomato paste
2 tablespoons soy sauce
1 cup fresh or frozen corn
Start your brown rice cooking on the stove or in your rice cooker first.  You'll need this after about 20 minutes of cooking the other ingredients.  In your food processor, blend 1 can of black beans with 1 can of diced tomatoes, set aside.  (If you don't have a food processor, you could use a blender.)
Heat oil in a large pan (we use our 5 quart saute pan, but a large wok works too) and saute garlic and onions for 1-2 minutes.  Add bell peppers and cook until the peppers are tender (5-7 minutes).  Add the tofu and spices and cook for 5 more minutes.  Now add the cooked brown rice, tomato-bean mix, the other can of black beans, tomato paste, soy sauce and frozen corn.  Cook another 5-10 minutes until everything is heated and mixed completely.
Serve in a wrap or in a bowl garnished with chopped green olives, salsa and avocado.  Add salt and pepper to taste.  Enjoy!
May 28, 2011 | Leave a Comment
A few weeks ago when spring temporarily took  leave, we were craving a good vegetable soup. With a little bit of googling we found a recipe for Minestrone Soup on the Whole Foods website and modified it a bit. We removed the parmesean cheese and added in a few items that we love in a hearty veggie soup, including kale and yukon gold potatoes. We threw it all together in a giant 8 quart pot and ended up with a delicious soup we couldn't stop eating.
We make our broth from Frontier brand vegetable broth (organic low sodium) and know that's part of the reason this soup is so good. You can get Frontier products at Whole Foods or on Frontier's website. We plan to post a blog entry about buying wholesale from Frontier soon, so more on that later! Let's get back to the soup!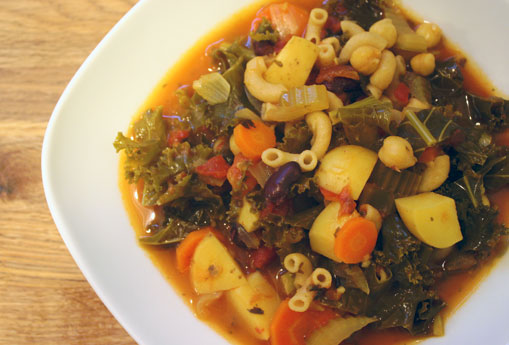 Here's the recipe we made. If you don't have a big 8 quart pot, you should make half this!
2 tablespoons olive oil
4 cloves garlic
1 medium onion
8 cups vegetable broth
2 cups water
1/2 cup fresh parsley chopped
6 small yukon gold potatoes chopped
4 stalks celery chopped
3 carrots peeled and chopped
1 tablespoon chopped fresh basil or 1 teaspoon dried basil
1 bay leaf
1 28 oz can diced tomatoes (with juice)
1/4 cup tomato paste
2 bunches of kale chopped (we used curly kale, but any kale would work)
1 15 oz can chick peas
1 15 oz can kidney beans
1 1/2 cups whole wheat elbow macaroni pasta
In a large soup pan (8 quarts minimum), saute the onion and garlic in oil until the onion is translucent (~5 minutes).
Add broth, water, parsley, potatoes, celery, carrots, basil, bay leaf, tomatoes and tomato paste.  Bring to a boil then lower heat to a simmer and cook for 30 – 40 minutes until the veggies are tender.
Add chick peas, kidney beans, kale and pasta.  Simmer another 20 minutes.   Season with salt and pepper and serve!!  Yum!
March 31, 2011 | 2 Comments
Spring has sprung in California, but I'm fully aware that my home state of Michigan is expecting a snow storm this weekend. I thought it might be time to post at least one more recipe of comfort food before I move on to our spring favorites. My sister gave me this recipe and we modified it slightly to fit what we had in the kitchen at the time. We were lucky to harvest parsley and sage from our winter garden. Fresh herbs are best in this recipe, and you should be able to get them fresh at the local market most of the year.  We've made this a few times but this last batch was our best yet!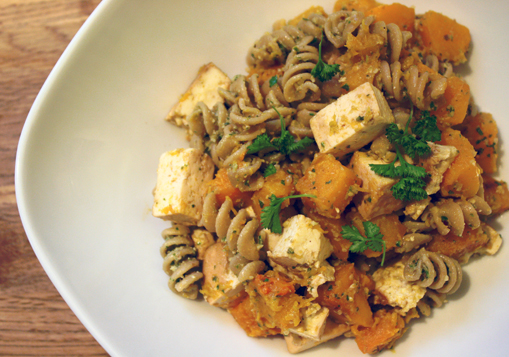 One nice thing about this recipe is that you can do some of the prep ahead of time.  We even brought this to a friend's house this winter and assembled it there.  We prepared the pesto in advance and just roasted the squash and cooked the tofu and pasta at their house!  Here's the recipe:
1 medium to large butternut squash, peeled and diced
1 tablespoon of olive oil (for roasting squash)
2 cloves garlic
15-20 sage leaves
3/4 cup curly parsley
1/2 teaspoon salt
1/4 teaspoon fresh ground pepper
juice of one lemon
1/4 cup walnuts
1 tablespoon olive oil (for pesto)
15 oz. firm or extra firm tofu, diced
1/2 tablespoon olive oil (for frying tofu)
1 tablespoon soy sauce
2 cups whole wheat pasta
Peel and dice the butternut squash and roast in the oven for 30 – 40 minutes at 400 degrees.   While this is roasting, prepare the pesto.  Throw peeled garlic cloves in the running food processor to chop.  Add sage leaves, parsley, salt, pepper, lemon juice, walnuts and olive oil.  Process until chopped and blended well.  Set aside.
Cook two cups of pasta (we like the organic whole wheat rotini from Trader Joes).  This should take about 10-15 minutes, so start this when the butternut squash is about halfway done.  
Fry the diced tofu lightly in the olive oil and soy sauce in a wok or pan.  This should get cooked and a little crispy on the edges in 5 to 10 minutes.  You could definitely bake the tofu in some soy sauce if you wanted to cut back on the oil here!
When all the parts are done, throw together in a large mixing bowl and serve.  I like to start with the pasta, then mix in the pesto evenly, then add the squash and tofu last.  Stir until everything is coated.  Delicious!
NOTE: To make this gluten free, simply substitute rice pasta for the whole wheat pasta.