March 31, 2011 | 2 Comments
Spring has sprung in California, but I'm fully aware that my home state of Michigan is expecting a snow storm this weekend. I thought it might be time to post at least one more recipe of comfort food before I move on to our spring favorites. My sister gave me this recipe and we modified it slightly to fit what we had in the kitchen at the time. We were lucky to harvest parsley and sage from our winter garden. Fresh herbs are best in this recipe, and you should be able to get them fresh at the local market most of the year.  We've made this a few times but this last batch was our best yet!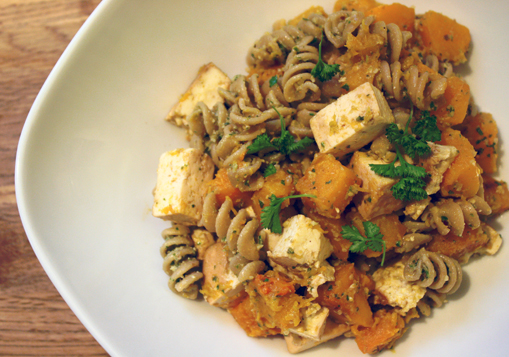 One nice thing about this recipe is that you can do some of the prep ahead of time.  We even brought this to a friend's house this winter and assembled it there.  We prepared the pesto in advance and just roasted the squash and cooked the tofu and pasta at their house!  Here's the recipe:
1 medium to large butternut squash, peeled and diced
1 tablespoon of olive oil (for roasting squash)
2 cloves garlic
15-20 sage leaves
3/4 cup curly parsley
1/2 teaspoon salt
1/4 teaspoon fresh ground pepper
juice of one lemon
1/4 cup walnuts
1 tablespoon olive oil (for pesto)
15 oz. firm or extra firm tofu, diced
1/2 tablespoon olive oil (for frying tofu)
1 tablespoon soy sauce
2 cups whole wheat pasta
Peel and dice the butternut squash and roast in the oven for 30 – 40 minutes at 400 degrees.   While this is roasting, prepare the pesto.  Throw peeled garlic cloves in the running food processor to chop.  Add sage leaves, parsley, salt, pepper, lemon juice, walnuts and olive oil.  Process until chopped and blended well.  Set aside.
Cook two cups of pasta (we like the organic whole wheat rotini from Trader Joes).  This should take about 10-15 minutes, so start this when the butternut squash is about halfway done.  
Fry the diced tofu lightly in the olive oil and soy sauce in a wok or pan.  This should get cooked and a little crispy on the edges in 5 to 10 minutes.  You could definitely bake the tofu in some soy sauce if you wanted to cut back on the oil here!
When all the parts are done, throw together in a large mixing bowl and serve.  I like to start with the pasta, then mix in the pesto evenly, then add the squash and tofu last.  Stir until everything is coated.  Delicious!
NOTE: To make this gluten free, simply substitute rice pasta for the whole wheat pasta.