May 28, 2011 | Leave a Comment
A few weeks ago when spring temporarily took  leave, we were craving a good vegetable soup. With a little bit of googling we found a recipe for Minestrone Soup on the Whole Foods website and modified it a bit. We removed the parmesean cheese and added in a few items that we love in a hearty veggie soup, including kale and yukon gold potatoes. We threw it all together in a giant 8 quart pot and ended up with a delicious soup we couldn't stop eating.
We make our broth from Frontier brand vegetable broth (organic low sodium) and know that's part of the reason this soup is so good. You can get Frontier products at Whole Foods or on Frontier's website. We plan to post a blog entry about buying wholesale from Frontier soon, so more on that later! Let's get back to the soup!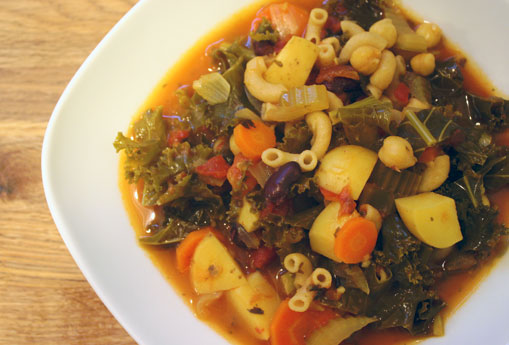 Here's the recipe we made. If you don't have a big 8 quart pot, you should make half this!
2 tablespoons olive oil
4 cloves garlic
1 medium onion
8 cups vegetable broth
2 cups water
1/2 cup fresh parsley chopped
6 small yukon gold potatoes chopped
4 stalks celery chopped
3 carrots peeled and chopped
1 tablespoon chopped fresh basil or 1 teaspoon dried basil
1 bay leaf
1 28 oz can diced tomatoes (with juice)
1/4 cup tomato paste
2 bunches of kale chopped (we used curly kale, but any kale would work)
1 15 oz can chick peas
1 15 oz can kidney beans
1 1/2 cups whole wheat elbow macaroni pasta
In a large soup pan (8 quarts minimum), saute the onion and garlic in oil until the onion is translucent (~5 minutes).
Add broth, water, parsley, potatoes, celery, carrots, basil, bay leaf, tomatoes and tomato paste.  Bring to a boil then lower heat to a simmer and cook for 30 – 40 minutes until the veggies are tender.
Add chick peas, kidney beans, kale and pasta.  Simmer another 20 minutes.   Season with salt and pepper and serve!!  Yum!