Bookshelf
Many books have guided our transition to a vegan diet. Some of them are cookbooks (you'll see some of their fine recipes in our posts) and some are about other subjects that support our decision to be vegan (environmental issues, factory farming and health). We recommend all of these books, many of which are available at your local public library.
Cookbooks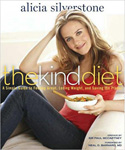 The Kind Diet
by Alicia Silverstone
There are many reasons we decided to adopt a vegan diet, but this book was a huge catalyst. Alicia Silverstone presents the reader with plenty of great reasons to change their diet (the environment, their health and animal rights) and she does it in a very approachable way. She reminds us that every step towards a more plant-based diet is a good one. The recipes in this book are simple and delicious too! Find out more about Alicia's movement on her website www.thekindlife.com.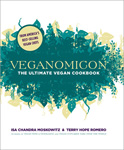 Veganomicon
by Isa Chandra Moskowitz and Terry Hope Romero
Veganomicon has tons of recipes for every occasion. We have yet to make a recipe from this book that we don't like. The book opens with lots of useful information about how to stock a good vegan pantry and what tools and utensils you'll want to have in your kitchen. On top of all that, the book is funny and regularly makes us laugh. For more fun recipes from these authors online, check out their website, The Post Punk Kitchen www.theppk.com.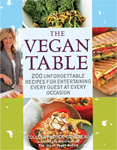 The Vegan Table
by Colleen Patrick-Goudreau
The Vegan Table is organized around entertaining. It's an original way to present the recipes, for two, for a small dinner party, or for a larger group. Of course all the recipes could be made to serve one or many for any occasion. There are all types of recipes from appetizers to desserts. We look forward to working our way through this book. Learn more about Colleen Patrick-Goudreau on her website, Compassionate Cooks www.compassionatecooks.com.
Clean Food
by Terry Walters
Clean Food is a book about eating healthy, fresh, seasonal (and clean!) food. Each season of the year is a section of the book with recipes for every meal of the day. The author never says that it's a vegan cookbook, but I have yet to find an ingredient that is animal-based. This is a great book to use when you shop at your local farmers market or pick up your weekly CSA box. Learn more about Terry Walters on her website www.terrywalters.net.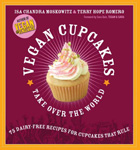 Vegan Cupcakes Take Over the World
by Isa Chandra Moskowitz and Terry Hope Romero
If you are looking for vegan sweets, look no further. This little book was written by the same women who brought us Veganomicon. The cupcakes are fun and tasty and easy to make. While we do our best to limit white flour and sugar in our diet, once in awhile, a really sweet dessert is just what we need.
Other Books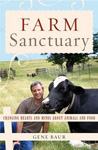 The Farm Sanctuary: Changing Hearts and Minds About Animals and Food
by Gene Baur
The Farm Sanctuary is an organization that was founded to combat the abuses of factory farming. Besides advocacy for farm animals, the two farms located in upstate New York and northern California have rescued thousands of abused animals and allowed them to live out their lives in peace. This book tells Gene Baur's story and introduces you to some of the amazing animals that have been rescued because of the Farm Sanctuary. Find out more about Farm Sanctuary on their website www.farmsanctuary.org.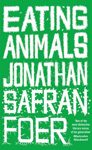 Eating Animals
by Jonathan Safran Foer
In Eating Animals, novelist Jonathan Safran Foer writes about his real-life exploration of the ethics of eating meat, eggs and dairy as he prepares for the birth of his child. He covers the important cultural aspects of eating in addition to the realities of meat production in the modern world. The book is well-researched and filled with personal stories and statistics that lead the author to conclude that in order to live a healthy, sustainable and ethical life he and his family must eat a plant-based diet.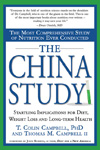 The China Study
by Colin Campbell and Thomas M. Campbell
In The China Study, T. Colin Campbell uses the results from a host of reputable scientific/medical research studies to show the link between nutrition and cancer, heart disease and diabetes. The book is named after a large study Dr. Campbell conducted in China where the diets of hundreds of thousand of Chinese people were compared with the incidence of disease within this population. The results showed a remarkably strong link between much lower rates of disease for people eating a primarily plant-based diet. Campbell also documents the link between the consumption of animal protein, in the form of meat, dairy and eggs, and the growth of cancer. This book is filled with compelling evidence for limiting or eliminating animal products from your diet and persuasively describes the healing properties of a plant-based diet.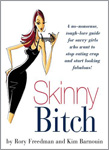 Skinny Bitch
by Rory Freedman and Kim Barnouin
Skinny Bitch will make you simultaneously laugh and cry as they present no-nonsense arguments for cutting meat, dairy, eggs and processed foods out of your diet. They also point out that if you do this, you will lose weight and look and feel fantastic. I recommend this book to anyone who is sick of feeling disatisfied with their body and wants to start feeling great. This is just the first in a series of books they have written about adopting a vegan diet. Learn more about their books on their website www.skinnybitch.net.