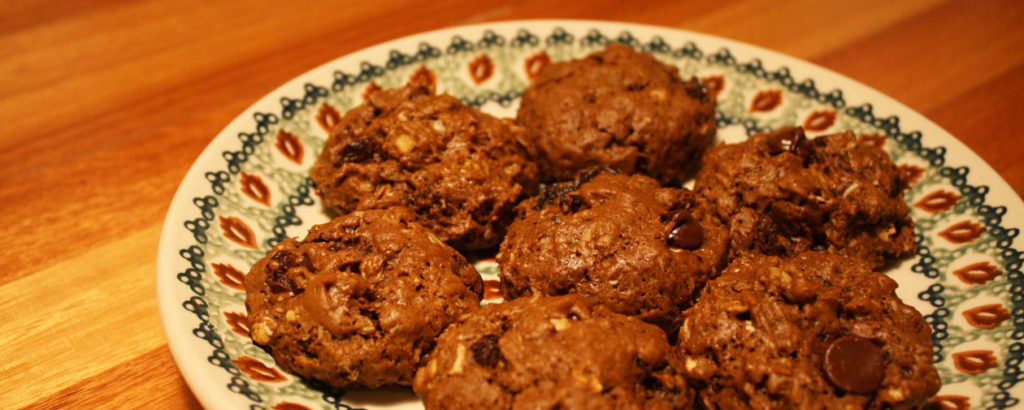 Oatmeal Chocolate Chip Molasses Cookies
January 7, 2017
We love these cookies because the recipe is simple and really pantry-friendly. By that I mean you probably have everything you need for this recipe in your pantry right now! The only thing we sometimes don't have is the chocolate chips (they never survive long in our house, inside or outside of a cookie!). The good news is that these cookies are really delicious even without the chocolate chips. My sister came up with a version of this recipe years ago and Pete and I have modified it as we've gone along to perfect it.
Here is the recipe:
1/3 cup canola or grape seed oil
1/4 cup sugar
2 1/2 tbsp molasses
1 cup flour
1/2 tsp. baking powder
1/2 tsp. baking soda
1/2 tsp. salt
1 cup rolled oats
1/4 cup almond or soy milk (any plant-based milk can work)
1/4 cup raisins
1/4 cup chocolate chips (optional)
Turn on oven to 350 degrees. In a medium to large bowl, mix the oil, sugar and molasses. On top add the flour, powder, soda and salt, followed by the oats – add these slowly and when it gets hard to mix, add the almond milk, and stir everything together. Finally, add the raisins and chocolate chips.
The dough is pretty sticky – you can either make balls (golf ball sized) or just drop spoonfuls on the cookie sheet to make a dozen plus cookies. Bake at 350 for 12 to 14 minutes. Let them cool briefly on a rack before eating, they will solidify some as they cool. Enjoy!